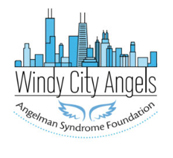 Bank of America Chicago Marathon 2021
October 10, 2021
Chicago, IL
The ASF is an approved charity for the Bank of America Chicago Marathon and our team of runners are the Windy City Angels. To gain entry to the marathon you can time-qualify for the marathon, be granted a charity guaranteed entry spot or receive a spot through the non-guaranteed drawing for spots.
MEET THE 2021 WINDY CITY ANGELS
The Windy City Angels are AS parents, siblings, neighbors, teachers, clinicians or friends of an individual with AS who inspires them to do great things. Some have run many marathons and some are first-timers.  
Year after year, we are amazed by the Windy City Angels. Their commitment to honor their loved by embarking on this challenge is truly inspiring!  
About the Windy City Angels
Windy City Angels Marathon runners are asked to raise $2,500 and will receive:
Guaranteed entry into the 2021 Bank of America Chicago Marathon (runners are responsible for entry fees  $205 for runners from the US / $230 for international)
Windy City Angels elite runner's shirt
Personal fundraising webpage
Free team dinner and party the day before the race
Access to our discounted hotel room block (runners are responsible for hotel fees)
$300 donated to your personal fundraising from the ASF toward the $2,500 personal fundraising goal