The ASF receives funding from personal donations and organizations, like CASS and the Fighting Angels Fund that make the ASF Family Fund possible. Below, find stories from recipients of ASF Family Fund grants and how receiving funding has impacted their individual with AS. 
If you have donated to the ASF Family Fund, THANK YOU! We hope these stories make you smile knowing that you have directly helped someone with AS.
Bryson – Back Porch Update
We are beyond grateful to the Angelman Syndrome Foundation for the Family Fund Grant award that will allow us to transfer our back porch so it is assessable for Bryson since his is now in a wheelchair and a covered area so he can enjoy anytime of the year with the family. The lumber got delivered today and we are so excited and can't wait to start this project.
– Melissa Triplett
Everly – Abram's Nation Travel Bed
Shout out to the ASF and Abram's Nation! We were gifted this magnificent travel bed through the ASF Family Fund just in time for our rebellious stage (pulling away, sneaking out of bed, donkey butt) and more intense travel for medical care. Everly is so excited. She's been in her bed for 30 minutes laughing and rolling around. This gift means so much to us. Having a safe place for her to sleep abroad, especially one that is accessible following procedures, gives us the same peace of mind as we have at home. Thank you ASF for providing resources to families for things they could not otherwise afford or have access to.
– Candace McClellan
Tyler – Electric Assist Motor
I cannot thank ASF Family Fund enough for helping us purchase the electric assist motor to put on Tyler's tandem bike. For years I have been unable to take him on bike rides because he has gotten too heavy and doesn't really help with pedaling. The bike just sat in the garage. We are now able to go out in the surrounding neighborhoods and get back to family bike rides.
– Stacey Davis
Lena – P-Pod Chair
I was able to get my angel, LENA, a p-pod chair so she can lounge in it. All the chairs medical or leisure special needs chairs were not working for her. I love it and she loves it!  THANK YOU SO MUCH ASF.
– Jane Bee
Leia – iPad
Many thanks to the Angelman Syndrome Foundation for this incredible gift!
We are so grateful for allowing Leia to receive her iPad with its special communication and learning app. This is truly a great step in our daughters' development and learning
– Meylin Ramieriz
Nico – Freedom stroller
Thank you so much to the Angelman Syndrome Foundation!
Despite the cold of winter, we have been able to enjoy being outdoors with Nico because of the generous grant toward the Advanced Mobility Jogger Freedom stroller. 
We've always been active outdoors —  and Nico was always been a part of it. Since he has  outgrown the all terrain stroller we had, we'dve been limited in where we could go.
Nico can enjoy being with family and friends in the elements, and he takes great pleasure being with everyone and getting into it. 
– Jay Lee
Sophie – All terrain chair and freewheel
A huge thank you for the grant to enable us to buy Sophie a new wheelchair! We live in Cornwall, England and are surrounded by beaches, coastline and moors, all of which bring challenges for the normal heavyweight wheelchair users and we find ourselves constantly yearning to take Sophie to the water which she absolutely adores.
This has not only given us access to the country and coast, it has given us the freedom of choice. Thank you!
– Tracy Dunne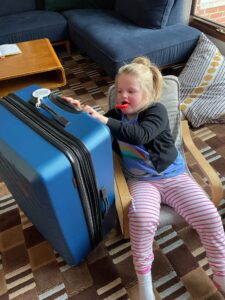 Hazel – Safety Bed
Thank you for the grant to allow us to purchase the Abrams Safety Sleeper. We are so grateful for the foundation, and its generosity.
We are so thankful that our angel, Hazel, will be able to sleep in her own bed.  Sleep is difficult to come by for us, so knowing she is safe allows our minds to be at ease.
– Grant and Jennifer Marshall
Rhiann – iPad
"Rhiann is making headway with her speech using her iPad! 
She is hitting buttons on soundboard to tell us what she wants, and it is really helping with trips to CHOP! Thank you again!"
– Ashley Banich 
Lydia – iPad Mini and Proloquo2go
"The year of 2020 majorly impacted therapy for our daughter, Lydia. Lydia started speech therapy at the end of 2019. At the beginning of 2020 her therapist started using Proloquo2go and then the shutdown happened. During the shutdown, Lydia's therapist decided not to return. We then had to find a new speech therapist months later and start all over again.
Lydia was again introduced to Proloquo2go and then right before Thanksgiving, the therapy center shut down for a few weeks. When we learned on November 30th that we received the ASF Family Fund and knew that even though shutdowns may unfortunately continue, we would now have the ability to continue speech therapy at home on a daily basis.
We cannot thank the ASF enough for granting us with an ipad mini, Proloquo2go, a case and a keyguard. These are the foundations Lydia needs to grow her ability to communicate with us and everyone else. We truly appreciate it and cannot thank you enough!"
– Phil and Chrislyn Palumbo 
Lovely – Boogaloo Bed
"2020 was such a hard year for all of us. The Angelman Syndrome Foundation Family Fund has us hopeful that we can sleep a little easier in 2021. Our family is overjoyed that we can all get a safe night's sleep without worrying about our Lovely's safety. 
What a blessing to receive this helping hand from the Angelman Syndrome Foundation. One less thing to worry about, knowing my angel is safe in her bed at night means everything. Our entire family can not thank you enough are stress level has dropped tremendously."
– Katelyn Collins
Ruby – Rifton Mobile Stander
"Thank you to the Angelman Syndrome Foundation for the stander! It is working so well for Ruby and we are already noticing her time in it is helping her legs."
– Ben and Hannah Meeks
Brody – iPad
"I wanted to reach out and let you know what an impact it has made having the iPad. Brody is 7, we've tried so hard to potty train and the biggest struggle has always been that he isn't able to communicate when he needs to go to the bathroom. Now that he has his device and has figured out how to use it, he is completely potty trained and can communicate those needs!
He also has learned how to ask for specific things he wants (apple juice, fruit snacks, fire truck toy, etc). He also has gotten very good at learning to ask for more of something or to let us know when he is all done with something. Thank you so much, it has made such a large impact in Brody's life and has given him much more independence!"
– Jessica and Brody Warnke
Titus – Abram's Nation Safety Sleeper
Three year old Titus and his family were awarded an Abram's Nation Safety Sleeper.
"This bed has changed our nights . . . and days for that matter. Having an enclosed, safe bed has allowed Titus to sleep at night. We also love that he has a sense of normalcy with a cool looking big boy bed. We do not even know where to begin in thanking you. Our family has peaceful nights and restful sleep because of you. To have an organization who utterly understands the need, is invaluable. Thank you!"
– Desiree Lambert, Titus' mom
Poppy – WIKE Special Needs Trailer
The Newell Family loves outdoor adventures and were adamant that Poppy would always be included in these activities.  As Poppy got older, they needed something different to continue their experiences. In doing some research, they discovered the WIKE Special Needs Trailer, which would be perfect for their family.  Almost simultaneously, the Newell family came across the ASF Family Fund and took a leap of faith!  Poppy was awarded the WIKE and immediately fell in love.
"We want to thank the Angelman Syndrome Foundation for their generosity. We don't know all of the experiences Poppy will gain with her trailer, but we can be certain that she will have the freedom and ability to explore the world around her."
-The Newell Family
Bryce – Backyard Glow Up
Bryce loves to be outside and play, but he was unable to play in his own backyard due to holes, uneven ground and poison ivy. Bryce's mom applied for an ASF Family Fund grant and was awarded a backyard clean up. Now Bryce can run and play outside without worry of injury or poison ivy.
"We can't thank ASF for all that they have done for us and continue to do. We would be lost without you in this journey! Thank You from the bottom of our hearts."
-Bryce's mom, Megan Gloeckner 
Jackson – Communication Package
Unfortunately, due to Covid, Jackson Selby was no longer able to attend his therapies and maintain his routine.  Todd and Lauren Selby were awarded the ASF Family Fund Grant to provide an iPad, Lamp Communication App and keyguard to help their son learn to communicate. 
"Our family has been directly impacted by the education, family outreach, uplifting news, and many other programs ASF does for the community.  We are thankful to be surrounded by ASF and the community."
-The Selby Family
Oceano – Freedom Jogger
"I want to thank the Angelman Syndrome Foundation, for choosing our family to be among the recipients for the first ASF Family Fund grant. With this grant, we were able to all run together again as a family. Our son, Oceano, had outgrown his previous racing stroller and we struggled to find something that satisfied his various needs. Now, we have a stroller that is durable, stable, comfortable, will grow with him, carry his emergency equipment, and make him feel like he's flying! Our son loves his Freedom Jogger as do we.
This past International Angelman Day we used his new jogger as we ran in a local race. Oceano, Isla (baby sister), Mom, Dad, Grandma, and Grandpa, all wore our Angelman shirts and ran together as a family. This was such a wonderful feeling and we are so grateful for the ASF Family Fund to of helped make this possible!"
-Vanessa Patterson
Vivienne – Convaid EZ Rider
"We are very grateful for the generosity of the ASF Family Fund. We were awarded a grant for the purchase of a new Convaid EZ Rider for our daughter, Vivienne.
While we always encourage exercise and walking for further muscular development, this stroller will be instrumental when we travel and in situations out in public, where she may become overwhelmed while walking and will need periods of rest. It will also provide her with comfort and security in places where proper accommodations for special needs children are not available.
Vivienne loves this stroller more than her previous one. She finds it very comfortable and gives a thumbs up every time we go out with it! This is a Godsend for us. Thank you!"
-Maria Navarrete