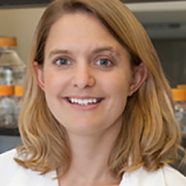 Stormy Chamberlain, Ph.D.
University of Connecticut Health Center
2014
Testing the efficacy of antisense oligonucleotides (ASOs) against UBE3A-ATS in human neurons
$200,000 (2 years)
This research study builds upon previous ASF-funded research conducted by Dr. Art Beaudet at Baylor College of Medicine and will determine whether a drug that increases UBE3A expression can restore normal function to human AS brain cells. The study will also help identify potential biomarkers that can be used in the lab or in clinical trials to determine whether drugs that unsilence UBE3A are restoring proper function to the brain cells. Finally, the research will generate genetically identical pairs of AS and control human stem cell lines that can be used by other researchers to study AS.
Previous research at this institution generated patient-specific stem cells from AS patients with mutations in the UBE3A gene. The researchers plan to use genome editing tools to correct the mutation in AS stem cells to produce cells that are genetically identical to the AS patient, but do not have AS. They will then convert the AS and corrected stem cells into brain cells and use whole genome RNA sequencing to identify the differences between AS and typically developing brain cells. Once they have identified differences, they will treat the AS brain cells with a drug that unsilences paternal UBE3A to determine whether the drug restores proper function to AS brain cells.
Results
Ovid Therapeutics entered into a collaboration with UCONN Health and Stormy Chamberlain to develop this approach as OV882 – a therapeutic for Angelman syndrome.