Kyle Rooney
Twin Cities, MN
Kyle Rooney
President
Kyle Rooney and his wife, Shawna, are proud parents to four young children. Madden was diagnosed with AS at six-months-old and since then, the family has been committed to finding a cure and the best possible care for Madden and other AS families.

In a short but very proactive time, the Rooney's have done so much to raise AS awareness, help fund research and family support. In 2016, Kyle led a team of climbers to the top of Mt. Kilimanjaro on behalf of all people with AS and continues to leverage his love for endurance sports and adventure to bring awareness and fundraising dollars to ASF. #Summit4Angelman

Kyle is a division manager for the largest ophthalmic surgical company in the world and oversees a sales force covering the upper Midwest. He's been active in multiple charitable organizations for the last 10 years and has been fully committed to the ASF since Madden's diagnosis.

Kyle Rooney is an independent voting member of the ASF Board. | Term Expiration: 2025
Lesley McCallister
Charleston, WV
Lesley McCallister
Vice President
Lesley McCallister is the proud sister of Kate McCullough, who was diagnosed (del +) with Angelman Syndrome in February 1989. Lesley's family has been involved with the Angelman Syndrome Foundation since its inception. She has been a frequent volunteer and speaker on sibling issues and panels at past ASF family conferences, and brings the perspective of a sibling to an adult with AS to the Board.

Lesley graduated from Washington University in St. Louis in 2003 with a bachelor's degree in Political Science and earned a Master's degree in Journalism from Northwestern University in 2005. She is currently a stay-at-home mom to her elementary-aged children Luke and Lydia, while juggling multiple volunteer leadership roles in her community. Lesley, her husband Drew and children reside in Charleston, WV.

Lesley McCallister is an independent voting member of the ASF Board | Term Expiration: 2026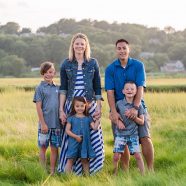 Michael Cecere
Kingston, MA
Michael Cecere
Treasurer
Mike Cecere and his wife Lori-an work in the Finance Industry for The Bank of New York Mellon and State Street Corporation respectively. They reside in Kingston, Massachusetts with their 3 children, Michael, Weston, whom was diagnosed with Angelman Syndrome in 2014, and Scarlett. Mike is active in both the local community and Angelman community. Locally he serves as co-chair of the Special Needs Parent Advisory Committee, as a baseball and soccer coach, and is a committee member of the integrated preschools' accessible playground project. In the Angelman Community, he is the Boston ASF Walk coordinator. Mike graduated from Bryant University in 2003 with a BS in Finance and Suffolk University in 2011 with an MBA.

Michael Cecere is an independent voting member of the ASF Board. | Term Expiration: 2025
Pete England
Fort Worth, TX
Pete England
Secretary
Pete and his wife, Sepi live in Fort Worth, TX and are proud parents to their daughter, Leila. Pete currently serves as Vice President of Strategic Partnerships at 2e Creative, a marketing firm focused on the advancement of global healthcare brands. Pete brings 17 years of healthcare experience spanning the pharmaceutical and medical device sectors. Pete's passion for AS began several years ago when he embarked on a journey to climb Mt Kilimanjaro while raising awareness with current ASF Board President, Kyle Rooney.

Pete England is an independent voting member of the ASF Board | Term Expiration: 2025
Shannon Moyer
Downingtown, PA
Shannon Moyer
Director
Shannon Moyer and his wife Stephanie reside in Downingtown, Pennsylvania and are parents to three boys, Colin, Trent, and Grant. Their oldest, Colin, was diagnosed with Angelman Syndrome when he was 18 months old. Shannon and Stephanie have been involved with ASF for many years, regularly participating in and fundraising for the Philadelphia area ASF Walk.

Shannon stays busy with his sons' various sports and activities, including taking Colin to his favorite activity, swimming. Shannon has coached soccer in the local youth sports association.

Shannon is a graduate of Syracuse University and The George Washington University Law School and is Managing Associate General Counsel with Qurate Retail Group.

Shannon Moyer is an independent voting member of the ASF Board | Term Expiration: 2025
Rebecca Burdine
Princeton, NY
Rebecca Burdine
SAC Chair
Rebecca Burdine is a faculty member in the Department of Molecular Biology at Princeton University. Her lab focuses on understanding the mechanisms that control left-right patterning and asymmetric organ morphogenesis, and work to develop models to study rare disorders. She was named the 44th Mallinckrodt Scholar for the Edward Mallinckrodt Jr. Foundation and received a Scientist Development Career Award from the American Heart Association in 2003. She served as a National Academies Education Fellow (2013-2014) and Mentor (2016-2017) and was elected as fellow to the American Association for the Advancement of Science (AAAS) in 2018. She is on the Editorial board for Cell Reports and Zebrafish, and regularly serves on grant review panels for the NIH and NSF.

Dr. Burdine is a parent to a child with Angelman syndrome. She first served on the ASF scientific advisory committee in 2007 by invitation from Dr. Joe Wagstaff. She previously served as Chief Scientific Officer for the Pitt-Hopkins Research Foundation and for the Foundation for Angelman Syndrome Therapeutics. She also served on the Clinical Trial Steering Committee for the STARS and NEPTUNE studies conducted by Ovid Therapeutics.

Rebecca Burdine is an independent voting member of the ASF Board | Term Expiration: 2025
Marianne Benet
Rye, NY
Marianne Benet
Director
Marianne Benet is the mother of three boys, including Henry, who is diagnosed with AS.
Marianne worked in microfinance (econonic development) for ten years and held several positions including Director of Development, in which she oversaw teams in three countries and was responsible for reaching a $32 million annual target.

Marianne has a Masters degree in Foreign Service from Georgetown University. Prior to that, she graduated with honors from Wesleyan University in Middletown, Connecticut, where she double majored in Latin American Studies and Spanish Literature. The daughter of a Cuban exile and an Argentine immigrant, she grew up in Buenos Aires, Argentina and Miami, Florida and currently resides in Rye, NY. Marianne is passionate about rowing (crew) and is a member of the racing team at Row America Rye.

As a supporter of the ASF, Marianne has helped to organize the ASF Walk and helped raise funds and awareness in different ways, most recently through a fundraiser related to her rowing the Head of the Charles regatta in Boston, MA.

Marianne Benet is an independent voting member of the ASF Board | Term Expiration: 2026
Andrew Oberwager, MD, CFA
New Canaan, CT
Andrew Oberwager, MD, CFA
Director
Andrew Oberwager, MD, CFA, is the founder and portfolio manager of Machaon Capital, a healthcare therapeutics hedge fund based in Stamford, CT. As an investor over the last 20 years, he has supported several companies developing treatments for rare genetic diseases.

Andrew received his Medical Doctor degree from Harvard Medical School in 2001 and his A.B. from Princeton University in 1997 and has conducted laboratory research at The University of Pennsylvania's Institute for Human Gene Therapy. Andrew also serves on the Advisory Board of Atlas Impact Partners, a hedge fund focused on companies who address the world's social and environmental challenges.

Andrew and his wife Caitlin are parents to their daughter, Charlotte.

Andrew Oberwager is an independent voting member of the ASF Board | Term Expiration: 2026
Charles Winslow
Orlando, FL
Charles Winslow
Director
Charles and his wife, Monet, are parents to Aniyah, who was diagnosed with Angelman Syndrome when she was 15 months old. Since Aniyah's diagnosis, Charles and Monet have immersed themselves in the ASF community and are committed to advocating for families to ensure that all Angels have the resources to reach their potential.

Charles is a Director in the School Performance division for an educational consulting firm that partners with K-12 schools to improve the math achievement of their students. Monet is a pediatrician.
In their free time, they enjoy visiting all the Disney parks and exploring new places to have fun.

Charles Winslow is an independent voting member of the ASF Board | Term Expiration: 2026
Melinda McBride
Rosemount, MN
Melinda McBride
Director
Mindy and her husband, Andy reside in the southern suburbs of Minneapolis/St. Paul metro area with their two children. Maisie was diagnosed with Angelman Syndrome in 2011 at 20 months old, and has a little sister Elsa that advocates and supports her.

Mindy is a principal in St. Paul Public Schools and has been in education and advocacy for over 20 years. Mindy is active in her community as she serves as treasurer for the St. Paul Principal Association board and on the Rosemount Fastpitch board where she leads concessions and fundraising. In the Angelman community, Mindy and Andy have been engaged in Angelman Syndrome fundraising for a cure since 2011. Andy and Mindy are also advocates in the West Nile Virus community after it directly impacted Andy in 2018 and changed their lives forever.

Mindy McBride is an independent voting member of the ASF Board | Term Expiration: 2026
John Sugden
Miami, FL
John Sugden
Director
John Sugden and his wife Ana Monaldi are parents to three boys, Sebastian, Nicolas, and Matias. Sebastian, their oldest son, was diagnosed with Angelman Syndrome in 2007 when he was almost 3 years old. John and Ana have been actively involved with the ASF since Sebastian's diagnosis. They helped coordinate ASF Walks in New York City and Orlando and have also participated in various ASF fundraisers such as the Rockville Center St. Patrick's Day Parade and the Chicago Marathon in 2019. John was also a previous Board member from 2010-2014 and member of the ASF Finance Committee.

John graduated from Georgetown University and NYU Stern School of Business and is a Managing Director and Chair of the Investment Committee at Ascent Management Company.

John Sugden is an independent voting member of the ASF Board | Term Expiration: 2026
David Routh
Chapel Hill, NC
David Routh
Director
David S. Routh is the Vice Chancellor for Development at the University of North Carolina in Chapel Hill, NC. He and his wife, Jenny, are proud parents of three daughters and have six grandchildren. Their 7-year-old granddaughter, Evelyn, was diagnosed with AS at twelve months of age, prompting David to connect with UNC Angelman researchers to learn as much as possible about the syndrome and the current research for a cure and therapeutics.

David is a veteran corporate executive with extensive philanthropic relationships. He acted as managing director for US Trust/Bank of America Private Wealth Management and, before his current role at UNC, spent 17 years of his career serving individuals, families and their charitable interests, including colleges and universities, private foundations and charitable trusts.

David has volunteered with non-profits and served on numerous boards throughout his career, including the UNC Lineberger Comprehensive Cancer Center, North Carolina Humanities Council, UNC Parents Council, and Greensboro Symphony Orchestra. David is a native of Greensboro, NC and is a 1982 UNC graduate, earning Phi Beta Kappa honors with bachelor's degrees in economics and religious studies.

David Routh is an independent voting member of the ASF Board | Term Expiration: 2026
William Rakoczy
Chicago, IL
William Rakoczy
Director
William A. Rakoczy is one of the founding partners of RAKOCZY MOLINO MAZZOCHI SIWIK LLP, an intellectual property law firm with a particular emphasis in litigation and counseling for the life sciences and pharmaceutical industries. Bill has over 25 years of experience serving as trial and appellate counsel in a wide variety of proceedings, including under the Hatch-Waxman Act and the BPCIA, as well as regulatory counsel before the FDA. Bill received his J.D. from Vanderbilt University in 1995 and his A.B. from Wabash College in 1992. He currently resides in Chicago, Illinois, with his partner, Rachel, and her daughter Beatrix.

Bill Rakoczy is an independent voting member of the ASF Board | Term Expiration: 2027
Dan Harvey
San Diego, CA
Dan Harvey
Director
Dan Harvey has been a member of the ASF Board of Directors from 1997 to 2001 and 2012 to 2020. He became involved with the ASF after his son, Matthew, was diagnosed with Angelman syndrome in 1996. From 2009 to 2018 Dan was the Chief Operating Officer of Dart NeuroScience LLC, a pharmaceutical company focused on the discovery and development of innovative drugs with new mechanisms of action for the treatment of learning and memory disorders. He is currently the Vice President of Operations at Alume Biosciences where he is involved in the design and development of nerve imaging agents. Dan resides in San Diego, California with his wife, Karen, and has three children, Michelle, Jay and Matthew.

Dan Harvey is an independent voting member of the ASF Board | Term Expiration: 2025
Steven Piluso
Chatham, NJ
Steven Piluso
Director
Steve and his wife, Mia live in Chatham, NJ with their two children, Tommy and Lia. Tommy was diagnosed with Angelman syndrome in May 2020.

After graduating from the Boston College Honors Program with double majors in English and Philosophy and a minor in Marketing, Steve began his career in advertising on Madison Avenue in NYC. Currently, Steve spends his time consulting for advertising agencies, brands and the Angelman Syndrome Foundation as much as possible. He also works as a performance career coach, chips away at the never ending DIY projects in a 103 year old house, practices guitar, and spends as much time as possible with Mia and Tommy and Lia. Steve is also an active member of MENSA and the Boston College Alumni community.

Steve Piluso is an independent voting member of the ASF Board | Term Expiration: 2028
Taylor Geathers
Charlotte, NC
Taylor Geathers
Director
Taylor Geathers and her husband, Kwamé, reside in Charlotte, NC, and are proud parents to three children, Marlee, Nova, and Krew. Marlee was diagnosed with Angelman syndrome in 2016 at 19 months. Since Marlee's diagnosis, Taylor has dedicated herself to researching and advocating for AS, publishing a paper on The Lived Experiences of Typically Developing Siblings of Individuals with AS. Taylor has been the coordinator for the North Carolina ASF Walk since 2020.

Taylor graduated from Johnson C. Smith University with a Bachelor's in Social Work and is pursuing her Master's in Social Work at Appalachian State University.
Faith and Family are the guiding principles of the Geathers family, and they always see the glass half full on this AS journey.

Taylor Geathers is an independent voting member of the ASF Board | Term Expiration: 2028
Lia Perryman
Grand Blanc, MI
Lia Perryman
Director
Lia Perryman and her husband, Clint, reside in the Mid-Michigan area, along with their three children, Mira, Lincoln and Preston. Mira was diagnosed with Angelman syndrome in 2020, shortly before her second birthday. Since that time, Lia and Clint have jumped into the Angelman community to help raise awareness and advocate for Mira and all her friends living with AS.
Lia is an attorney and practiced criminal law for the past 10 years. She received her bachelor's degree in Sociology from the University of Michigan in 2008 and her J.D. from Michigan State University College of Law in 2012.

Lia Perryman is an independent voting member of the ASF Board | Term Expiration: 2028
Anna Blanding
Hamden, CT
Anna Blanding
Non-voting consultant
Anna Blanding is founder and principal of The Pilliner Group, LLC, a firm providing investment services to foundations and endowments and strategic management services to nonprofits. Prior to this, Anna worked in the investment offices of Choate Rosemary Hall, a boarding school, and The Annie E. Casey Foundation, a national multibillion dollar foundation. She has experience working across all public and alternative asset classes with particular expertise in venture capital, private equity and real estate. She also has a passion for social impact investing, investments that have a financial as well as social return.
Prior to her career in asset management, Anna worked in philanthropy and policy. Anna has her undergraduate degree and MBA from Yale University.

Anna and her husband, Garfield Pilliner, a high school vice principal, live in Connecticut. They have a son, Daniel, and their angel, Gabrielle, who was diagnosed with Angelman syndrome in 2016. They quickly became involved in the AS community. Anna served on the ASF Board of Directors and Garfield has been a member of the Windy City Angels marathon team. They are both passionate about supporting research into treatments and a cure for Angelman syndrome.
Kathy Rokita
Indianapolis, IN
Kathy Rokita
Non-voting consultant
Kathy is a principal at Somerset CPAs in Indianapolis, Indiana, where she focuses her expertise in their Healthcare practice. She became involved with the ASF after her son, Teddy, was diagnosed with Angelman syndrome in 2010. Kathy is a past president of the ASF Board, co-coordinator of the ASF Walk Indianapolis and is active in several local professional and community organizations. Kathy resides in Brownsburg, Indiana with her husband, Todd and their two children, Teddy and Ryan.
Eric Wright
Louisville, KY
Eric Wright
Non-voting consultant
Eric Wright is a certified professional school counselor and education administrator with more than 20 years of experience. Eric and his wife, Debbie, are parents to Elsie, who is diagnosed with Angelman syndrome, and her siblings, Ella and eight-year-old Ethan. The Wright family has been involved with the ASF since Elsie's diagnosis in 2008, and Eric has participated as a member of the ASF Board of Directors, Family Resource Team, the conference planning team and past coordinator of the ASF Walk Louisville.