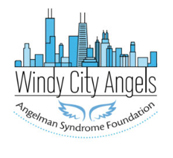 Bank of America Chicago Marathon
October 11, 2020
Chicago, IL
The in-person event for 2020 was cancelled with a virtual alternative offered through Bank of America.
The 2020 marathon team is invited back to take a one of the ASF's guaranteed entry spots for the 2021 marathon. 
Any inquiries can be directed to Kitty Murphy at kmurphy@angelman.org.
Meet the 2020 Windy City Angels
Those highlighted participated in the virtual marathon that ended on Sunday, October 11 and ran 26.2 miles.
About the Windy City Angels
Windy City Angels Marathon runners are asked to raise $2,500 and will receive:
Guaranteed entry into the 2020 Bank of America Chicago Marathon (runners are responsible for entry fees that the Bank of America Chicago Marathon charges)
Windy City Angels elite runner's shirt
Personal fundraising webpage
Free team dinner and party the day before the race
Access to our discounted hotel room block (runners are responsible for hotel fees)
$300 donated to your personal fundraising from the ASF toward the $2,500 personal fundraising goal