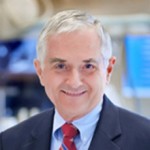 Arthur Beaudet, M.D. / Linyan Meng, Ph.D.
Baylor College of Medicine, Houston, TX
2013
Ube3a-ATS Targeted Antisense Oligonucleotides As Therapies for Angelman Syndrome
$200,000 (2 years)
Oligonucleotides are short, single-stranded DNA or RNA molecules. Previous studies have demonstrated that the antisense RNA of Ube3a (Ube3a-ATS) silences the paternal Ube3a gene. The investigators propose using antisense oligonucleotides (ASOs) to specifically target Ube3a-ATS, which is anticipated to unsilence the paternal Ube3a gene. Additionally, the researchers hope to determine the optimal treatment window, or age by which treatment should be administered, using a mouse model that is engineered to have a human-like Ube3a gene region. They will try this in young and adult ages and use behavioral parameters as measurements of effectiveness. The team will screen for antisense oligonucleotides that work in humans by studying their activity in a mouse model engineered to have a human-like Ube3a gene region. Overall, these studies will help to determine whether antisense oligonucleotides are a viable approach to the development of a treatment for Angelman syndrome.