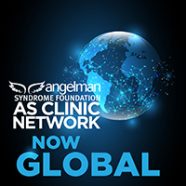 December 6, 2018
Angelman Syndrome Foundation Expands Clinic Network Internationally
Comprehensive Clinics Provide Unique Support for Individuals with Angelman Syndrome in Canada and Israel
AURORA, Ill. (December 6, 2018) – The Angelman Syndrome Foundation (ASF) expands its Angelman Syndrome Clinic Network through collaboration with international partners: The Children's Hospital of Eastern Ontario in Ottawa, Canada, and the Edmond and Lily Safra Children's Hospital of the Sheba Medical Center near Tel Aviv, Israel. With the addition of these clinics, the ASF Angelman Syndrome Clinic Network has grown to 10 locations globally, including eight locations across the U.S.
The ASF Angelman Syndrome Clinic Network is the first and only resource of its kind for individuals with Angelman syndrome (AS) and their families. Founded by the ASF, it leverages partnerships with leading medical and research institutions to provide individuals with AS the comprehensive care they need from infancy through adulthood.
As part of the commitment to improving the lives of patients and families living with AS, the medical teams of the ASF AS Clinic Network also participate in the latest clinical research protocols and trials. And, the ASF AS Clinic Network is currently developing the first standards of care in AS.
"The ASF AS Clinics provide vital, life-changing – and often life-saving – care for our children of all ages. No other resource like this exists for AS families, so to broaden the network internationally is critical for families around the world," said Eileen Braun, executive director of the Angelman Syndrome Foundation and mother to a young woman with AS. "The ASF AS Clinics also provide a pivotal platform for clinical research sites with experienced clinicians. The knowledge base and clinical data provided by the ASF AS Clinic Network is imperative to move research forward, from study design to implementation through clinical trials."
The purpose of the ASF AS Clinic Network is to reduce the frequency and severity of AS symptoms that interfere with function, such as seizures, behavior and sleep problems. In addition, the clinics work with families to develop educational recommendations to optimize educational programming for individuals with AS, thus helping these individuals achieve their full developmental potential.
"Partnering with ASF to become part of the global AS Clinic Network has created incredible collaboration and information sharing," said Jane Summers, PhD, Psychologist, and Dr. Erick Sell, MD, Pediatric Neurologist, co-founders of the ASF AS Clinic at the Children's Hospital of Eastern Ontario. "This has helped us tremendously to provide the exceptional, expert care for our patients with Angelman syndrome that we are committed to delivering."
With the ultimate goal of improving quality of life for individuals with AS and their families, the ASF AS Clinic Network provides comprehensive access to experts who specialize in AS. These AS experts include neurologists, epileptologists, developmental-behavioral pediatricians, psychologists, sleep medicine physicians, rehabilitation medicine specialists, gastroenterologists, pulmonologists, speech language pathologists, physical/occupational therapists, genetic counselors, social workers and nutritionists.
"Knowledge and experience sharing are highly important, especially in the field of rare disorders such as Angelman syndrome," said Dr. Gali Heimer, MD, PhD, Pediatric Neurologist and the Head of the Safra Children's Hospital Israeli Angelman Syndrome Clinic. "We are honored to join the global ASF AS Clinic Network. I am certain that this collaboration will contribute significantly to the quality of care that AS patients receive worldwide, and it will also aid and facilitate AS-related clinical trials and the search for specific novel therapeutics for this disorder."
The Safra Children's Hospital Israeli Angelman Syndrome Clinic within the Sheba Medical Center in Tel Hashomer, near Tel Aviv Israel, was established in partnership and operates in full cooperation with the Israeli AS Foundation.
"Ever since the Israeli AS Foundation was established, we have set it as one of our major targets to cooperate, share information and knowledge, and be as in sync as possible with AS parents' organizations, physicians and researchers worldwide," said Eitan Shay, CEO of the Israeli AS Foundation and father to an 8-year-old girl with AS. "We are proud and honored that our long-term and warm relationship with the ASF has led to this highly important step of the Safra Children's Hospital Israeli AS Clinic joining the ASF AS Clinic Network."
###
ABOUT ANGELMAN SYNDROME (AS)
Occurring in one in 15,000 live births, Angelman syndrome is a neurogenetic disorder often misdiagnosed as autism or cerebral palsy – that causes severe neurological impairment, appears in newborns and lasts for a lifetime. During fetal development, the loss of function of a particular gene in the brain occurs, resulting in neurons functioning improperly and causing deficits in development. Individuals with AS experience developmental delay, lack of speech, seizures, walking and balance disorders, and typically exhibit a happy demeanor characterized by frequent smiling, laughter and excitability.
ABOUT THE ANGELMAN SYNDROME FOUNDATION (ASF)
The Angelman Syndrome Foundation's mission is to advance the awareness and treatment of AS through education and information, research, and support for individuals with AS, their families and other concerned parties. The ASF sponsors AS research through grants to researchers pursuing treatments and a cure for AS. Since 1996, the ASF has funded 101 research grants totaling more than $9.5 million. The ASF has awarded a majority of these funds ($9.2 million) beginning in 2005.
ABOUT CHEO
Dedicated to the best life for every child and youth, CHEO is a global leader in pediatric health care and research. Based in Ottawa, CHEO includes a hospital, children's treatment center, school and research institute, with satellite services located throughout Eastern Ontario. CHEO provides excellence in complex pediatric care, research and education. We are committed to partnering with families and the community to provide exceptional care — where, when and how it's needed. CHEO is a founding member of Kids Health Alliance, a network of partners working to create a high quality, standardized and coordinated approach to pediatric health care that is centered around children, youth and their families. Every year, CHEO helps more than 500,000 children and youth from Eastern Ontario, western Quebec, Nunavut and Northern Ontario.
ABOUT THE SAFRA CHILDERN'S HOSPITAL
The Edmond and Lily Safra Children's Hospital of the Sheba Medical Center is a university-affiliated tertiary referral center located near Tel Aviv, Israel. It is renowned for its compassionate care and cutting-edge medicine, state-of-the-art facilities and dedication for advancing research of pediatric disorders. It specializes, among other things, in the care and research of rare disorders and holds the national clinics of many of those such as Rett, Ataxia Telangiectasia, Tuberous Sclerosis, Fragile X and of course, Angelman Syndrome. As part of the hospital's vision of providing holistic care to patients and their families, the rare disorders clinics provide multidisciplinary expert services scheduled all for the same day and a continuity of care into adulthood. The Safra Children's Hospital offers its expert services not only to patients from all across the country, but also the Palestinian Authority, and the Mediterranean and Near East regions.